Maui Real Estate Blog
Pa'ani Point and the Spreckelsville Lifestyle
Makena, Keawakapu Beach and Spreckelsville. What do these three areas of Maui have in common? They are the location of the last five homes to sell on the island for over $15,000,000. All three offer areas of spectacular beach or oceanfront. Makena and Keawakapu Beach are located in South Maui. They also happen to have more second home owners. This is where Spreckelsville is a little different.
Spreckelsville is located on the North Shore between Paia and the Kahului airport. It is an old Kama'aina neighborhood with a significantly higher number of year round residents. Spreckelsville is also the location of our new listing at Pa'ani Point. What is it about Spreckelsville that draws ultra high end buyers away from the gold coasts of South Maui to the North Shore?
If you are willing to pay eight figures for a home, chances are you buying the property for more than just the structures on the land or even the land itself. You are buying it for a lifestyle. That is something that Spreckelsville offers in spades.
Ocean Sports Mecca
The ocean just offshore from this waterfront neighborhood offer a plethora of wind and wave sport options. The area first gained renown for its windsurfing back in the eighties. Now you will see residents and visitors surfing, kiteboarding, SUPing, body boarding and foiling. If you don't want to take my word for it? Check out this video featuring Kai Lenny.
Kai, the son of MRET agent Martin Lenny, has won multiple world titles in Stand Up Paddle racing and surfing, came in second on the WCT big wave world tour and has competed professionally as a windsurfer and kiteboarder. He grew up in the neighborhood and cites the location as a key reason for his love of and proficiency in the water.
You don't have to be a big wave surfer to appreciate the ocean in Sprecks. Summer months offer small surf. Even during the winter, there are a number of protected spots where the waves don't get bigger than head high. If you love to swim, nature offers a fantastic lap pool between the sand and the reef at Baby beach. Quite a few neighborhood kids get their first taste of the ocean in the aptly name Baby Beach. Baldwin Beach offers an excellent spot for morning and evening beach strolls, hunts for sea glass and shells or watching a green sea turtle clamber on to the sand for a nap. Living the Spreckelsville lifestyle means enjoying the neighborhood's ocean and beach access no matter how you do it.
You Don't Have to be a Water Person to Love Sprecks
Spreckelsville is a neighborhood where you will see families walking, riding their bikes or their golf cart around the neighborhood. There are a lot of smiles and friendly waves as people cruise around the area. There is a bike path that leads from the neighborhood to Kanaha Beach Park and Kahului. The Maui Country Club is located in Spreckelsville. They have a nine hole golf course and offer a lot of social events for members. The Spreckelsville lifestyle might include a day of surf and turf. Hitting the beach in the morning and playing a round of golf in the afternoon.
Spreckelsville has enough to offer residents that you may not want to leave the neighborhood all that often. If you do want to venture out, there is a lot to explore nearby. Paia town is within biking distance. The town is an eclectic mix of Old Hawaii Plantation and Bohemian Surfer village. Paia has good restaurants, shops and yoga studios. Ho'okipa Beach Park is located about a mile and a half past downtown Paia. It is still considered one of the proving grounds for windsurfing. It is also popular for SUP and surfing. Mama's Fish House is located between Ho'okipa and Paia. This world renowned restaurant is still arguably the best place to eat on island and undoubtedly the best atmosphere.
If you head west from Spreckelsville, you are five minutes from Kahului. There you will find all of the island's conveniences including big box stores like Costco, Target, Home Depot and Lowe's. The Maui Arts and Cultural Center hosts gallery openings, world renowned musicians, theater, dance and more.
Living in Sprecks
When you read all of the attributes above, you can begin to understand why Spreckelsville is such a great place to live. Words don't always capture the true experience. They can't quite convey the feeling of walking out your back door with a surfboard under your arm to catch a wave at first light. Words don't express the joy you experience from seeing the smile on your child's face as you watch her play in the sand. They simply can't recreate the multi-sensory experience of watching the sky change from day to night with a soundtrack of surf breaking mixed with the laughter of family and friends.
Pa'ani Point offers a rare opportunity to own one of the true legacy properties in Spreckelsville. With a home and three cottages, there is plenty of room for friends and family to experience the Spreckelsville lifestyle with you. Paani Point is sold! You can find all of the other Spreckelsville Real Estate Listings on MauiRealEstate.com.
Maui Real Estate Blog
Peahi January 14, 2018
Maui Real Estate Blog
The El Nino Winter Continues. Peahi, Maui January 27, 2016
El Nino winters in Hawaii are known for drier than normal weather, warmer temperatures and big surf. This year's El Nino is following the forecast to perfection. January has seen little rain, warm days and a whole lot of high surf warnings. Last Wednesday was described as the biggest surf seen at Peahi, Maui's renowned big wave break, in over a decade. Today's rapidly building swell was predicted to bring surf that was almost equal in size. The waves were big and they inflicted quite a bit of carnage on the surfers in the water. Our broker Billy headed down to Peahi, also known as Jaws, right before sunset. He met up with Maui Real Estate Team agent Martin Lenny just in time to see Martin's son Kai catch one of the last waves of the day. Here are a couple of photos that Billy took from this evening's surf.

Kai Lenny on his SUP at Jaws

An unknown surfer catches a nice wave at Peahi.

The jet skis on the left side of the photo give you some sense of the size of this wave at Peahi.
The forecast calls for the big surf to continue over night and into the morning before slowly decreasing throughout the day tomorrow. There are still a couple of months left before the end of the this El Nino winter season. I suspect we may see some more really big days at Peahi. If work allows, we will try to get down there for some more pictures and video.
Maui Real Estate Blog
Kai Lenny Jaws GoPro Footage
Here is a great video to jump start your week. Kai Lenny takes us as close as you can to riding Jaws without threatening your own life and limb in the process.
The Maui Real Estate Team has always respected Kai for his accomplishments in the water and even more so for the way he carries himself out of the water. Thanks Kai for blowing our minds one more time.
Maui Real Estate Blog
Aloha Classic
The Aloha Classic Windsurfing Contest has been running over the last week at Ho'okipa Beach Park. This event brings competitors from all over the world to the mecca of windsurfing. Broker Billy had the chance to make a brief stop by the contest and snapped a few photos as the competitors performed in ideal wind and wave conditions.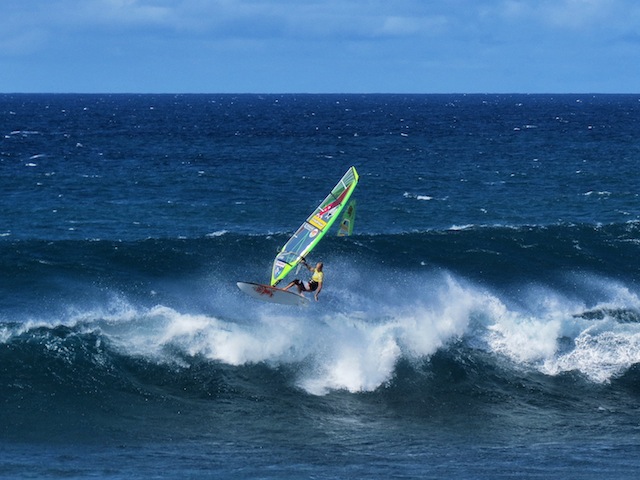 The contest period started on October 24th and will run through November 6th. Event results, more photos and video are available at the Aloha Classic Site. If you are a wind sport enthusiast, there are few destinations better than Maui. If you are interested in a windsurfing home, check out the current inventory of Paia Real Estate Listings.
Maui Real Estate Blog
Jaws Takes Center Stage at XXL Awards
The Billabong XXL big wave awards were held last Friday. This annual event honors big wave surfers for categories that include biggest wave, best ride, best barrel and worst wipe out. Many years, the infamous big wave surf break "Jaws" or Peahi on Maui's North Shore produces rides that are contenders for the crown. This year was no different as a surprise October swell pushed the boundaries of big wave surfing. The biggest award went to Big Island wave rider Shane Dorian for his ride of the year. The same wave also won the "tube of the year" award. The Maui Real Estate Team was on the cliffs on October 9th with video camera in hand to record Shane's big wave.
Congrats to Shane, the other winners and all of the nominees. A special congrats to Maui surfers Paige Alms and Matt Meola for their nominations for the Girls Performance Award and Paddle in Awards respectively.