Hawaii Plantation Style Homes are a style of architecture tracing back to the first half of the twentieth century. Modest in size and high in charm, they are not too different in style from a bungalow style home you might see on the mainland. There are a couple of communities around Maui and Maui county that have concentrations of these historical structures due to their agricultrual roots. Places like Lahaina, Makawao, Haiku, Wailuku, Paia and Lanai city on the island of Lanai are some of the communities that have higher concentrations of homes with this architectural style. While there are a number of Hawaii Plantation Style homes that have been lovingly restored, others are still in need of a little TLC and waiting for the right owner to restore them to their original charm. Here are some listings currently on the market that meet that fit this style of architecture.
This 3 bedroom 1.25 bath 1228 square foot home has been recently restored. It is a real charmer just a short walk from historic Makawao town.
Listing price is $440,000.00 The Jalbert Brothers may represent you as Buyer's agents
This Wailuku plantation style home has 3bedroom, 1.25 baths and 1,086 square feet of living space. Constructed in 1941, this plantation style home is looking for the right owner to restore it to its original charms.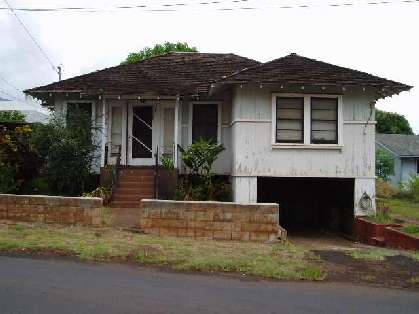 Listing price is $415,000.00 The Jalbert brothers may represent you as Buyer's agents.
This cute little home in Lanai City on the island of Lanai has 2 bedrooms/1 bath and 667 feet of living space. It will need some work, but the house has great potential.
Listing price is $240,000.00 The Jalbert brother may represent you as Buyer's agents, but you better act fast. Historic properties have been going quickly in Lanai City.
We recognize that there are home buyers who appreciate the character of older homes and/or enjoy restoring older homes. These are just some of the current listings that fit the Hawaiian Plantation style. Contact us for other plantation style listings. You may also want to check back in with us on the blog. We will post other Hawaii plantation style listings as they come on the market.