Two cute looking Makawao Homes just came on the MLS in the last couple of days. Makawao is a great town in the Upcounty area of Maui. If you are not familiar with the area, you may want to check out our article on Makawao in a recent Coconut Chronicles. Both of these homes have good potential for first time home buyers. The first home is located in the Hali'imaile area of Makawao. This cute neighborhood is convenient to central Maui and the North Shore with a nice country feel. The nearby Hali'imaile General Store is one of the best restaurants on the island. The home itself is a Hawaiian Plantaion Style Home. It has 3 bedrooms and 2 bathrooms with 792 square feet of living area. It is an older home in need of lots of TLC. However, it might be a great fit for a handy man looking for the charm and sense of old Hawaii that comes with one of these homes.
This cute Makawao Home is in need of a buyer ready to provide the TLC to return it to its old Plantation Style Charm.

This Makawao home is listed for $375,000.00. The Jalbert brothers may represent you as buyer's agents.
The other new Makawao home listing is located just a short walk from downtown Makawao on Piikea. The home has a very lush and private feel due to its verdant landscaping and location at the end of a cul de sac. The home 2 bedrooms and 1 bath with 600 square feet of living space. There is also a detached 1 bedroom ohana with loft with a total of 484 square feet of living space.
This Makawao Home has a private feel due to landscaping and end of the cul de sac location.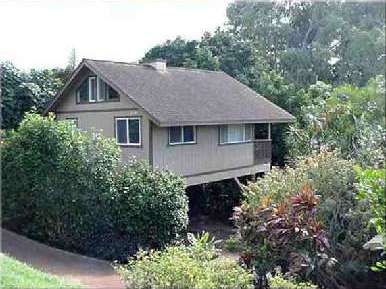 This home is listed at $529,000.00. The Jalbert Brothers may represent you as Buyer's agents for this home.
Check out our upcountry listings for additional Makawao Homes.