Makena is a special place on Maui. The shoreline is a stunning mix of lava rock and golden beaches. The water is incredibly blue and the vistas towards Kaho'olawe and Molokini are stunning. The views in the other direction aren't too shabby either with the lush green slopes of Haleakala rising to the East. Natural beauty and sunny weather make Makena Homes for Sale some of the most desirable on Maui.
Makena includes a mix of subdivisions, informal neighborhoods and one new master planned luxury resort. Subdivisions include One Palauea, Makena Place, Keauhou at Makena, Makena Sunset and Black Sands. They are all smaller enclaves as opposed to sprawling neighborhoods.
Discovery Land Company's Makena Golf and Beach Club is a significant new addition to the Makena Real Estate Market. Located on and around the old site of the Makena Prince Hotel, this development mixes luxury estate sites, beach "cottages", condos, and multi-family residences. Owners have exclusive access to the resort's 18 hole golf course and the beach club. The beach club includes pool areas, spas, fitness center and dining options. The bulk of the inventory at Makena Golf and Beach Club is not listed on the MLS. Contact The Maui Real Estate Team for more information on home, condo or land opportunities for purchase.
Scroll Down for the current active inventory of Makena Homes for Sale.
Check out the recent statistics for Makena Home Sales.
If you have questions or wish to discuss a listing in Makena, please call the Maui Real Estate Team at (800) 579-1525 or send us a message. We'll be happy to help.
Didn't find anything you like? Interested in building your own place in Makena? Check out the current inventory of Makena Land for Sale.
Recent Sales Statistics For Makena Homes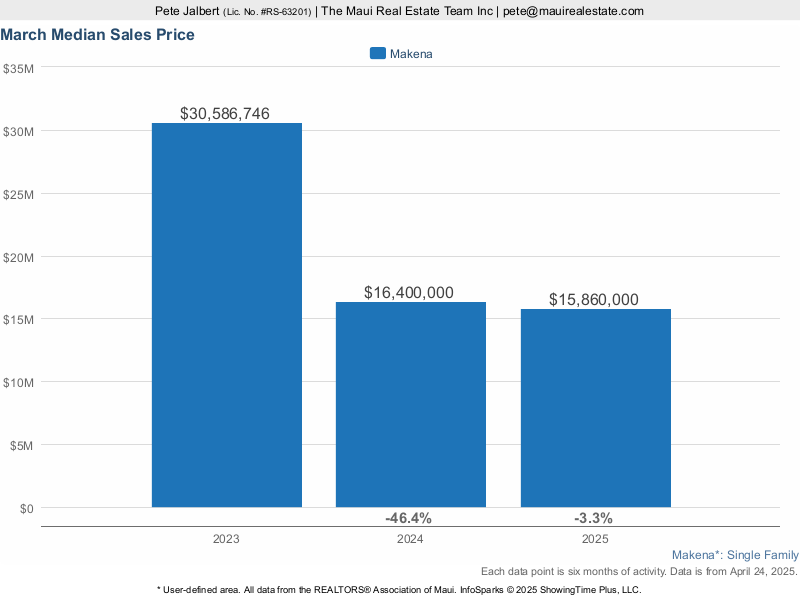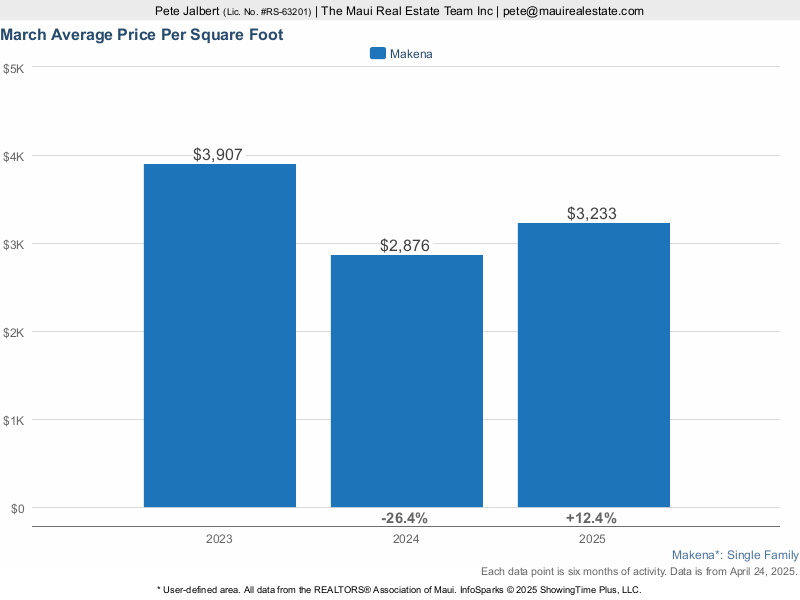 The stats above provide some sense of home sales prices in the Makena area. That said, median price and average price per square foot don't mirror changes in value. A small sample size and variability in the homes sold have a big impact on these numbers. Makena Homes vary pretty widely in both size of home and size of lot. Oceanfront vs being across the street from the ocean also impacts value. Contact The Maui Real Estate Team to talk to an agent for a more nuanced take on recent market trends in the Makena area.