Maui Information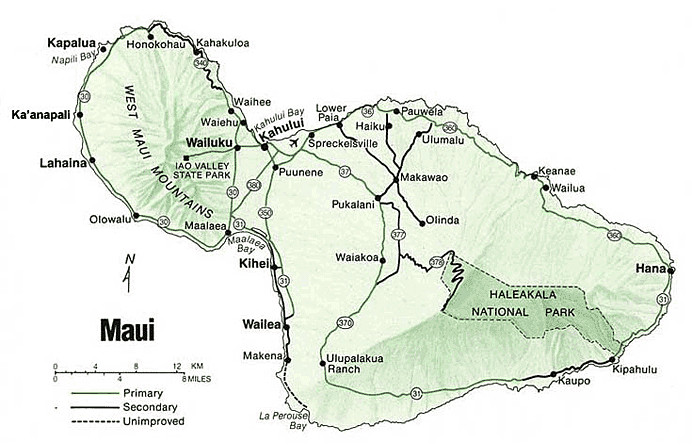 Information about Maui
Maui Climate
The following average temperature ranges apply to Maui:
January
65-80°F
(18 to 27°C)
February
65-80°F
(18-27°C)
March
69-81°F
(21-27°C)
April
69-83°F
(21-28°C)
May
70-85°F
(21-29°C)
June
72-86°F
(22-30°C)
July
73-87°F
(23-31°C)
August
74-88°F
(23-31°C)
September
73-88°F
(23-31°C)
October
72-87°F
(22-31°C)
November
69-84°F
(21-29°C)
December
67-81°F
(19-27°C)
Maui is a tropical island in the Hawaiian chain with a fairly mild year-round climate tempered by the Pacific Ocean. At sea level the average afternoon winter temperature is around 75°F (see above for approximate degrees Celsius) during the coldest months of December and January. August and September are the hottest summer months with temperatures in the low 90s.
As with most volcanic tropical islands, however, many different micro climates mean packing for a variety of conditions: swim suits and light hot-weather clothing for the beaches,  a lightweight windbreaker for the occasional shower at higher elevations, and more serious protection during inclement conditions when hiking Haleakala.
Dress is usually quite casual. Sports clothing or beachwear is appropriate for almost all daily activities. If you plan to do anything at higher elevations, like enjoying one  of the 20-mile-long bicycle runs down Haleakala or hiking the crater, use layers and be  prepared for rain or drizzle. Tropical weight evening attire (casual) will be okay for all but the fanciest nightspots.
Winter and Spring (mid-December through mid-April) is high season for Maui when most travelers plan their trip to the island. This also means that fewer travel bargains are available and that room rates at this time will average 10%-15% higher than the rest of the year.
Due to the prevailing trade winds, most rainfall hits the north- or northeast-facing shores, leaving the south and southwest areas relatively dry. As you make your way to various sections of Maui, it is interesting to note the differences in terrain brought about by  rainfall differentials. Besides the trade winds, elevation also plays a role in determining an area's microclimate. You will encounter everything from barren lunar-like desert with cactus bunch grass to lush tropical creepers and wild ginger to a bamboo forest to stands of eucalyptus and pines.