Maui Real Estate Blog
Maui Market Update April 7, 2020
This is my weekly post to check in on Maui Real Estate market activity. As one might expect, the market is slowing considerably. A global pandemic, no visitors, really limited showings and a number of buyers shifting to the sidelines means a lot less activity. I want to provide some data to quantify the slow down.
When I last posted pending sales on the 26th of March, the total pending sales for homes, condos and land totaled 497 properties. As of yesterday, the number is down to 405 pending sales. That is an 18.6% drop over the last eleven days.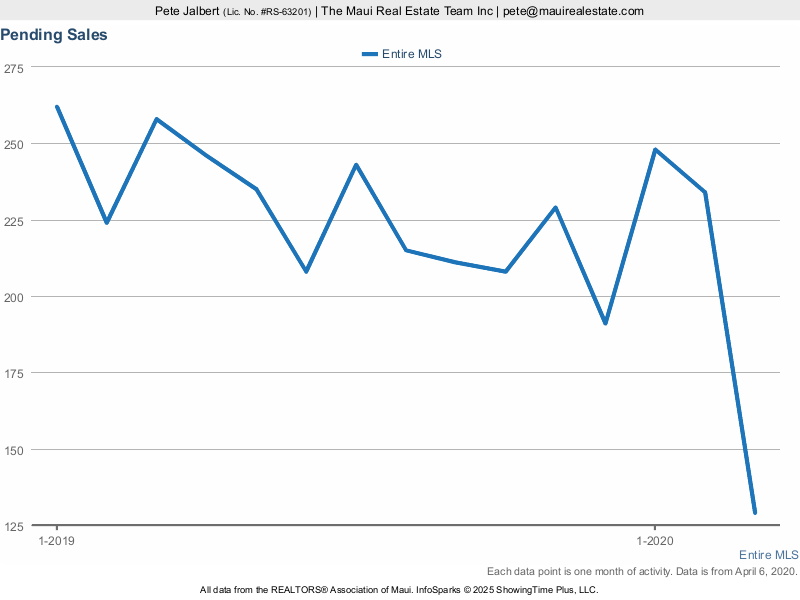 To be clear, this isn't all due to transactions cancelling. Deals are closing. Buyers are moving forward with transactions and title and escrow companies are using all tools in their quiver to make the signing of mortgages and closing documents a safe process. There are even transactions going under contract, they are just doing it at a much slower rate than transactions are closing. Here are the specific numbers.
Since March 1, the Maui MLS reported 304 transactions closed. That is just for homes, condos and land. That isn't too far below what sold over the same period in 2019 when 325 properties closed. That is only a 6.5% decrease.
According to data on the Maui MLS, there are 155 properties that went under contract after March 1 that are either still under contract or closed already. I don't have a great tool that shows me how many properties went under contract and fell out of escrow in that period.
That number is down substantially from the same period last year. Between March 1 and April 6th, 2019 330 properties went under contract. That is a 53% decrease.
The numbers are even more drastic when you compare the number of properties that went under contract after stay at home orders went into effect. Maui officially began staying at home on March 25th. In the period between March 25th and April 6th, 32 properties went under contract. Over the same period last year, 124 properties went under contract. That calculates to a 74% decrease when comparing this year to last year.
The pool of properties available for sale is also shrinking. With fewer showing opportunities and a whole lot of uncertainty, a number of sellers opted to pull their home of the market. Since March 1st, 165 sellers cancelled their listings. Another five sellers have their properties listed as temporarily off market. That is a 57% increase in cancellations over the 105 sellers that cancelled listings over the same period last year.
Sellers are still listing properties but in fewer numbers. Three hundred twenty-four properties came to market since March 1st. It is notable that fourteen of those properties were pulled from the market. While that number looks substantial, sellers listed 434 properties between March 1, 2019 and April 6, 2019. That is roughly a 25% drop.
What to Expect
I am reticent to make too many predictions as to what we can expect for the market moving forward. There is just so much uncertainty to when we will return to some semblance of normalcy with regards to the pandemic. The timing on that will dictate the state of the economy. I would surmise we would continue to see the number of pending properties drop. I don't think I am making any great leap with that prognostication.
Rather than engaging in a whole lot of speculation, I would like to make these stats posts weekly. I will keep tab on pendings and sales. I also want to dig into a few different property types, communities and price points to see if any parts of the market are behaving differently than the market overall. Contact the Maui Real Estate Team and let me know if there are any parts of the market that you want me to cover. In the meantime, stay safe and stay home.