The Meadowlands is located in the heart of Kihei. Homes in the neighborhood tend to be priced close to or slightly above the median price of homes in Kihei.
Meadowlands Overview
The development consists of approximately 120 homes.
The developer built the homes between 1996 and 2003.
The original developer models range in size between 1,008 and 1,930 square feet. Some owners subsequently added additions to their homes.
Lot sizes are easier to maintain. They range between 3,600 and 5,500 square feet.
The neighborhood is within walking distance of a number of shops, grocery stores, restaurants and the Kihei Fourth Friday Town Party.
Some of Maui's best beaches are within 5-10 minutes drive.
Check out the recent sales statistics for the Meadowlands.
Scroll down below for the current inventory of Meadowlands Homes for Sale.
If you have questions or wish to discuss a home listed in Meadowlands, please call the Maui Real Estate Team at (800) 579-1525 or send us a message.
Sorry we are experiencing system issues. Please try again.
Recent Sales Statistics for the Meadowlands Kihei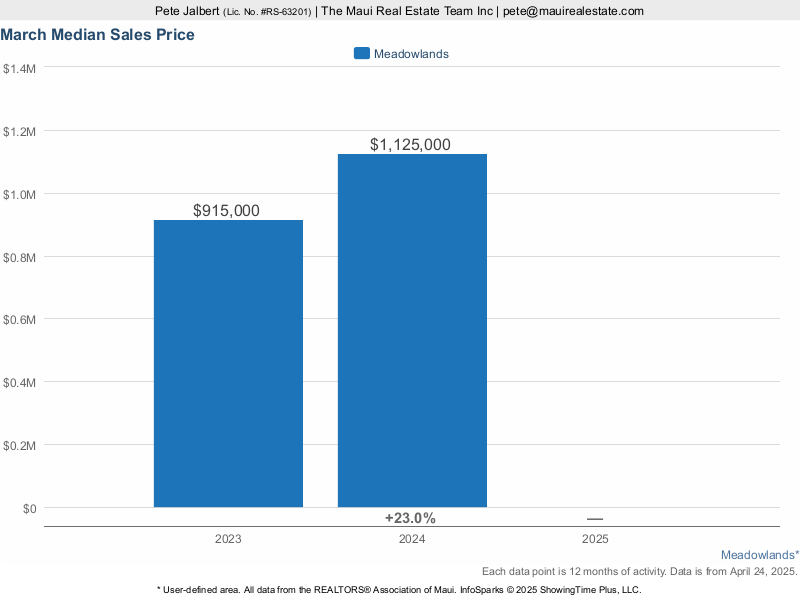 Statistics for the sale of Meadowlands Homes generally track with values in the neighborhood. That said, when sales volumes lower, the composition of homes sold can cause median sales price and average sales price to get out of whack. More small homes sold can drive median prices down. More Large homes sold can drive median prices up. Contact The Maui Real Estate Team to talk to an agent about pricing trends for the neighborhood.