Papali Wailea
Papali Wailea is a small gated development of 24 condos built in 2008 and 2009. The upscale condos offer spacious floor plans and big ocean views. This community is a strong option for buyers seeking the privacy and space of a home with the convenience of condo ownership.
Papali Wailea Details
Papali consists of 24 units located on a little more than ten acres of land.
The 24 units are spread over four terraced levels. The terracing helps ensure each unit has quality ocean views.
All of the condos have the same, spacious 3 bedroom, 3.5 bathroom floor plan with 2,386 square feet of interior living space.
Each condo also has a storage area, garage, court yards and lanai spaces.
The condos are open and airy with vaulted ceilings, big windows and large sliding glass doors.
Owners have access to a 75 foot infinity pool, barbecue area, fitness center, and spa.
Papali prohibits vacation rentals.
Papali Wailea Listings
Scroll down to see the current listings in Papali. Due to the limited number of units in the complex, there will be times when there are no condos listed. Contact The Maui Real Estate Team if you think Papali might be a good fit for you but there is no active inventory. We would be happy to let you know when a property comes up for sale.
Check out the recent sales statistics for Papali Wailea.
If you have questions or wish to discuss a listing in Papali, please call the Maui Real Estate Team at (800) 579-1525 or send us a message. We'll be happy to help.
Recent Sales Statistics for Papali Wailea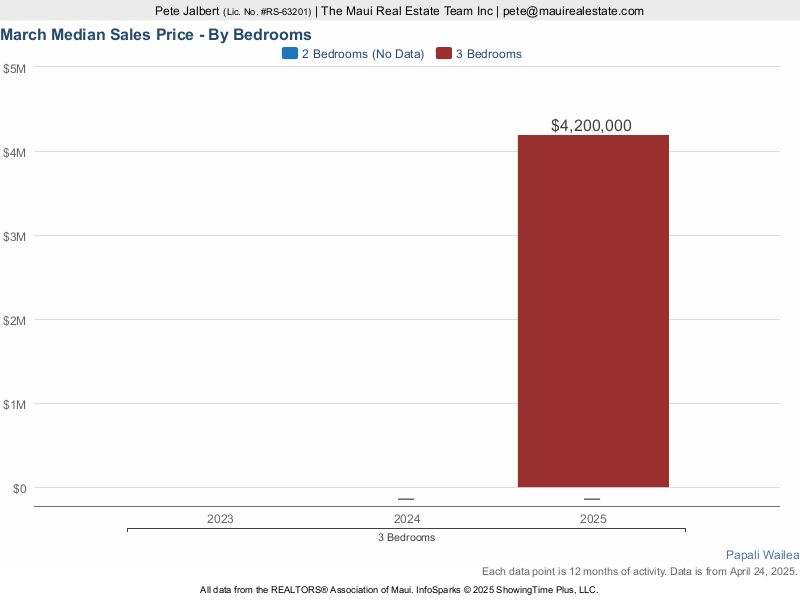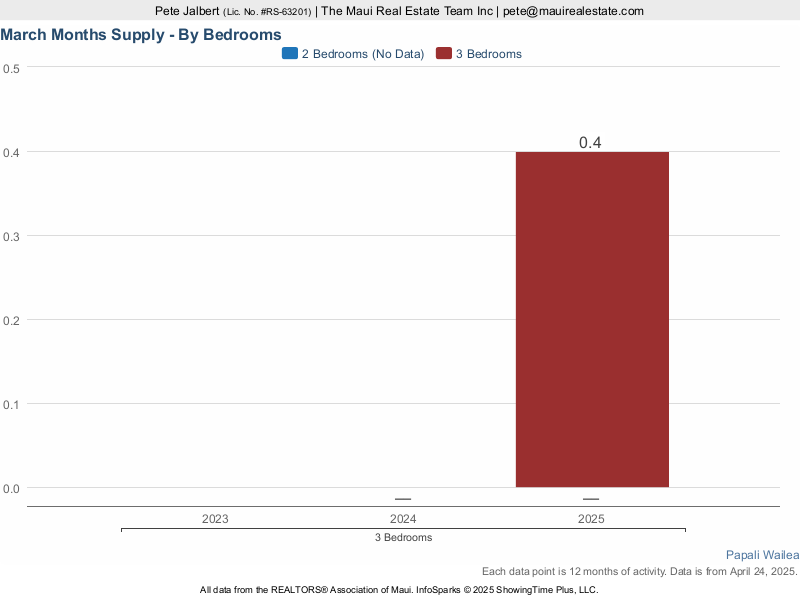 Since Papali units are the same size, we omitted the chart for Average Price per Square Foot. The units at Papali are more uniform than arguably any other condo development on the island. That makes the changes in median price tend to correlate well with changes in values. As you can see from the months supply of inventory, this is a development that sees very little turnover.