Maui Real Estate Blog
Sneak Peek! August 2013 Maui Real Estate Statistics
Now that labor day has come and gone, summer is slipping into the rear view mirror. That means another month in the books for the Maui Real Estate market. The Maui market continued to see a solid number of closes through the last month of summer. This is an early look at some of the August stats before the local Realtor's association publishes their own statistics. You will find key data on sales volume, median prices and other numbers of interest. I also give a few thoughts on the market via a video commentary. Without further ado, here are the August 2013 Maui Real Estate Statistics.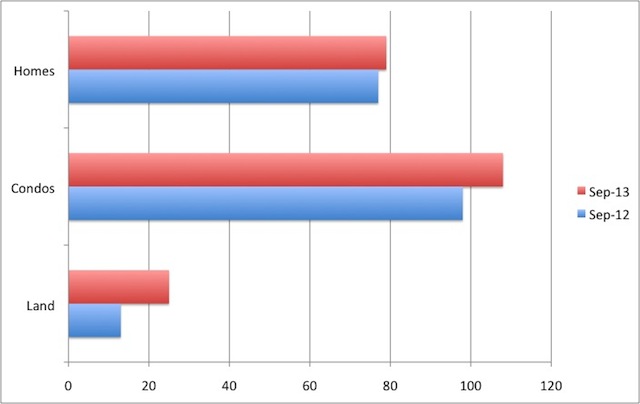 By my count, there have been 79 home sales reported to date for August with a median price of $585,000. That is slightly better than what we saw during August of 2012 when 77 homes closed. The August 2012 Median was $509,000. That is approximately a 3% difference in sales volume and a 15% difference in median value between this August and last August.
I tallied a total of 108 sales reported during August of 2013 with a median price of $415,000. Last August, there were 98 condo sales recorded in Maui county with a median price of $342,450. That is a 10% increase in sales volume and a 21% increase in median value when comparing the two Augusts.
There have been 25 land sales reported thus far for August 2012 with a median price of $350,000. There were 12 sales last August with a median of $350,000. That is a 208% increase in activity when comparing this August to last August.
While compiling the numbers above, I came across some other numbers worth sharing from the August Maui Real Estate Stats.
The highest sales price for a home was $6,300,000 for a luxurious four bedroom/six bath home in Wailea Golf Estates. That is the second time in the last three months where a Wailea Golf Estates property was the high sale for the month.
This was one of five total home sales on the month over $2,000,000. The five sales were diverse geographically. In addition to Wailea, there were sales in Haiku, Spreckelsville, Kapalua and Launiupoko.
The highest priced condo sale last month was $3,500,000 for a two bedroom/two bath front row Ka'anapli Ali'i. This was one of three condo sales over $1,500,000 in Maui last month.
There were two land sales over $1,000,000 in August. Both sales occurred in Launiupoko.
There were 16 total REO or bank owned closes in August. That is a slight uptick over what we saw in July and June of this year. Bank owned inventories remain low when compared to what we saw a couple of years ago.
Here are my thoughts on this months stats, what we might expect in the coming months and what it all means for buyers and sellers.
Contact The Maui Real Estate Team with any questions on this month's stats or feel free to leave a comment below. If you are interested in buying or selling a property on Maui, we would welcome the opportunity to sit down with you for a free consultation.