Maui Real Estate Blog
Sugar Cove Building 6, An Unprecedented Beachfront Offering
Sugar Cove Building 6 is an unprecedented beachfront real estate offering on Maui. With only 11 reported sales on the Maui MLS all time, listings at Sugar Cove are rare in their own right. Never before has a whole building in the development been offered for sale. For that matter, we believe this is the first time that a whole condominium building came up for sale on Maui. Add in an exquisite top to bottom remodel, the consolidation of two units in to a single fantastic primary living space, an additional "guest" space and you start to get a sense of how extraordinary this opportunity is for a beachfront luxury home buyer.
Building 6 Overview
Two separate living spaces.
Eight total bedrooms, seven bathrooms, three half bathrooms.
5,950 square feet of interior living space plus extensive lanai space.
Complete renovation including the replacement and upgrade of all structural elements.
Six designated parking spaces plus guest parking.
15.6 kw of net metered solar panels.
Security alarm systems in both units.
Tons of storage for surfboards, SUP boards, windsurf boards and rigged windsurf sails.
Units 6A and 6B
The owners combined Units 6A and 6B to create a single primary living unit consisting of 4 luxurious bedrooms with ensuite bathrooms including 2 owner's suites. In addition, there are 2 half baths; 2 laundry rooms; an oversized kitchen, living and dining area, an office, and a huge utility / storage room that is perfect for storing all of your Maui toys and a little bit of wine as well. There is also a large, insulated attic with additional storage. The 4th bedroom is currently utilized as a home fitness center. There are an additional 1,300 sq ft of decks creating a fantastic indoor/outdoor living space. The kitchen / living / dining room area includes over 70 feet of beachfront windows to take in the stunning views.
Unit 6C
To complement the primary space, there is a connected 4 bedroom guest unit. Two of the bedrooms include en suite baths, 2 bedrooms share a bath. There is also half bath downstairs along with a laundry area, a writing / desk space in the living room and complete high-end kitchen.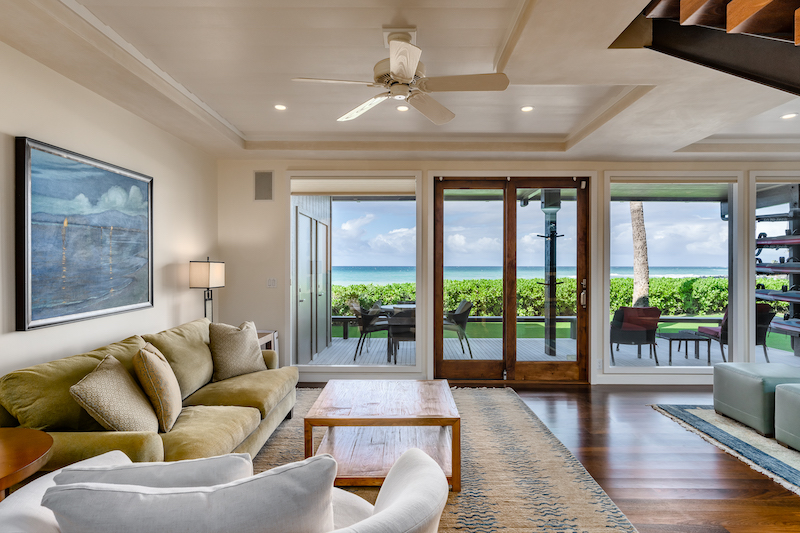 About Sugar Cove
Sugar Cove is a boutique 18 unit condo complex located in the heart of Spreckelsville on Maui's North Shore. The low density, six building complex features spacious lawn areas dotted with soaring Coconut Palms. There is a community club house, a pool and a pickle ball/ tennis court. Gated access offers security. World renowned wind and water sports can be found just offshore. Owners love being able to paddle out or launch from their back yards.
Contact The Maui Real Estate Team for Additional Information
The asking price for Sugar Cove Building 6 is $17,000,000. Check out the MLS listing for more pictures. Take a 3D tour for more interior details and a better sense of the floor plan. Contact The Maui Real Estate Team with questions or to arrange a tour. There are too many details and outstanding features to this listing to cover in one blog post. Stay tuned to our blog for more posts on this special listing.
Maui Real Estate Blog
A Perfect Day at 129 Aleiki
Our office videographer put together a great new video on our beach front listing in the Kuau area of Maui's North Shore. This Hawaiian Plantation Style Cottage is located right on the bluff above Mama's Beach. It is a fantastic home base for enjoying all that is offered by the North Shore lifestyle. This video captures some of the elements that could go into a perfect day at 129 Aleiki. Activities featured include reading and strumming the Ukulele on the back porch, surfing and windsurfing at nearby Ho'okipa, heading to Paia for lunch and taking in the sunset from the backyard.
129 Aleiki, Paia, Maui, Hawaii -HD from The Maui Real Estate Team on Vimeo.
This is just one example of a perfect day at 129 Aleiki. The question is what would your perfect day look like? Do you do a stand up paddle coast run starting at nearby Maliko Gulch? Do you head out to Kite Surf at Lanes or Baldwin Beach? Take a Yoga Class in Paia? Do you paddle out to surf the challenging waves that break right offshore from this property during the winter? Do you make the short stroll down the beach to have dinner at the world renowned Mama's Fish House? Do you just spend a a lazy day soaking up the sunshine and listening to the waves break? As the new owner of 129 Aleiki, the choices would be all yours.
This home is no longer listed for sale. You can find more Kuau Point Listings and Paia Area Listings on MauiRealEstate.com. Contact us directly with questions.