Tag:
Rainfall Catchment System
Maui Real Estate Blog
Haiku Off The Grid Lot
People have been living off the grid in Maui for decades. In rural parts of our island, electrical and water infrastructure can be limited. That means people may need to use catchment systems to capture their water supply and photovoltaic panels to generate power. While off the grid living may be the norm for some island residents, it is something that is getting more and more discussion and interest from the general public. PV systems have become more advanced and less expensive to install. We are also appear to be on the cusp of seeing some exciting advances in home energy storage. On a recent investor call, Elon Musk announced that Tesla will be entering the home energy storage market. Tesla batteries are supposed to start production in as soon as six months.
With off the grid becoming more accessible, it is a particularly exciting time to bring an off the grid land listing to market. This lot in Haiku is .7 acres of flat and usable land. The ocean views from the building site are truly stunning.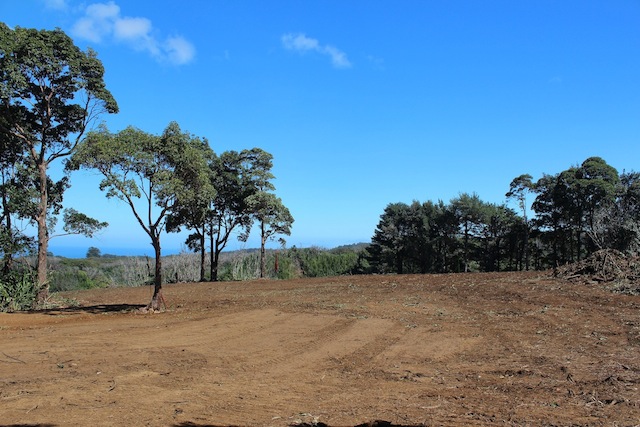 The lot is located near the end of a quiet country road. It overlooks Opana Gulch. Opana stream runs through the gulch and can sometimes be heard from the lot. Looking across the gulch, there is nothing but forest views extending up towards the Koolau gap of Haleakala. This is truly a place of quiet that brings you back to nature.

Opana Gulch includes areas of Bamboo Forest.

Opana Stream running through the gulch near the property.
There is nothing but forest land when you get to the end of the road. This is a view from off the property looking up Opana Gulch towards the Koolau Gap on Haleakala.
This Haiku off the grid lot is listed for $357,500.  This property sold in 2015. Contact The Maui Real Estate Team for assistance with other Haiku land listings.