Maui Real Estate Blog
The Incomparable Haiku Sanctuary
This property sold in 2021
Situated in a quiet, lush valley on Maui's North Shore, two streams flank this 9.64 acre property The streams merge at the edge of the property before traveling a short distance to the ocean. This place is truly a feast for the senses as the sound of rustling palm fronds accompany the rumble of the ocean and the murmur of streams. There are two separate homes. The Sky House, at the top of the property, provides broad vistas of the Pacific. The Ocean house, located closer to the streams and the ocean, provides more intimate views of ocean and the surrounding tropical landscape. Each home has its own pool. There is a white cedar workshop between the two homes. Add in an orchard and nature trails and this is a place to truly slow down and catch your breath in a fast-paced world.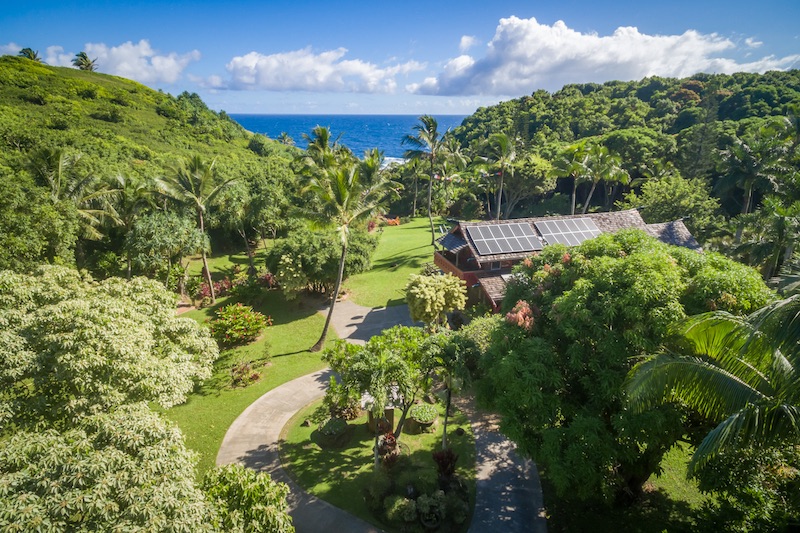 A Well Loved Property
When the developers of this property first purchased this property, the valley was dense jungle. They slowly began to clear the property keeping a selection of larger common mango trees, and kukui trees. The original owners cleared home sites for the Ocean House and the Sky House. They planted beautiful gardens and an orchard. The owners lovingly constructed the two homes. They hand selected timbers for the homes, laid mosaic tiles for the pools and bathrooms and carved tikis in support posts.
The current owner continued the previous owners stewardship of the land. She expanded the orchard area and continues to maintain the grounds organically.
Off The Grid Living
The property is truly off the grid. Photovoltaic Solar Panels power the two homes. A generator provides back up power. Water comes from a well on the property. There are a variety of organically grown fruits on the property including coconuts, avocado, citrus, lilikoi, surinam cherries, bananas, papaya and a whole lot more. There is a small kitchen garden with herbs and greens next to the ocean house. With solar power and all the edibles, you can truly live well with a light footprint.
A Place to Create
With a large artist's studio/workshop and an abundance of peace and quiet, this is truly a place to think and a place to create. The Haiku Sanctuary is a place to escape distraction and hustle and bustle. This is a place to get back to nature.
See more of the property in the video below as our broker Billy takes you on a tour of the Haiku Sanctuary.
This stunning property is co-listed with Hawaii Life Real Estate Brokers. The asking price for the Haiku Sanctuary is $4,800,000. This property sold in 2021. Contact The Maui Real Estate Teal if you are looking for an incomparable estate property. We would be happy to assist with your search.
Published September 26th, 2019