The Villas at Kehalani is a newer Central Maui condo development. It is the most upscale condo offering in the Kehalani Master Planned community. Like the rest of Kehalani, location is a big draw for many residents. It is close to downtown Wailuku and other Central Maui shops, restaurants medical facilities and amenities. It is within ten minutes drive of three golf courses and thirty minutes or less to beaches in West Maui, South Maui and along the North Shore.
Villas at Kehalani Overview
Built in two phases. Stanford Carr completed the first phase in 2010 with the second phase completed in 2014 and 2015.
There are 103 total condos spread out over 30 two story buildings on 17.17 acres of land.
The condos offer nice ocean, West Maui Mountain and Haleakala views. The developer finished the units with granite counters and nice cabinetry. All units come with a two car garage.
There are three different floor plans. The two bedroom, two and a half bath floor plan includes 1,446 square feet of interior living space with 130 square feet of covered lanai.
There are two Three bedroom, two and a half bath floor plans with 1,853 and 1,724 square feet of interior living space respectively with covered lanai of approximately 170 square feet.
Access to the Villas at Kehalani is gated.
Vacation rentals are prohibited.
Buyers should take note that it is difficult to obtain financing at the Villas at this time due to a lawsuit between the AOAO and the original developer.
Buyers should do their due diligence on the association and the lawsuit which relates to construction defects to the condos and neighborhood infrastructure.
Scroll down below to see the current inventory of Villas at Kehalani Condos for Sale.
Check out the recent sales statistics for the Villas to get a sense of market trends in the development.
Please call the Maui Real Estate Team at (800) 579-1525 or send us a message if you have questions or wish to discuss a listing. We will be happy to help.
Recent Sales Statistics for the Villas at Kehalani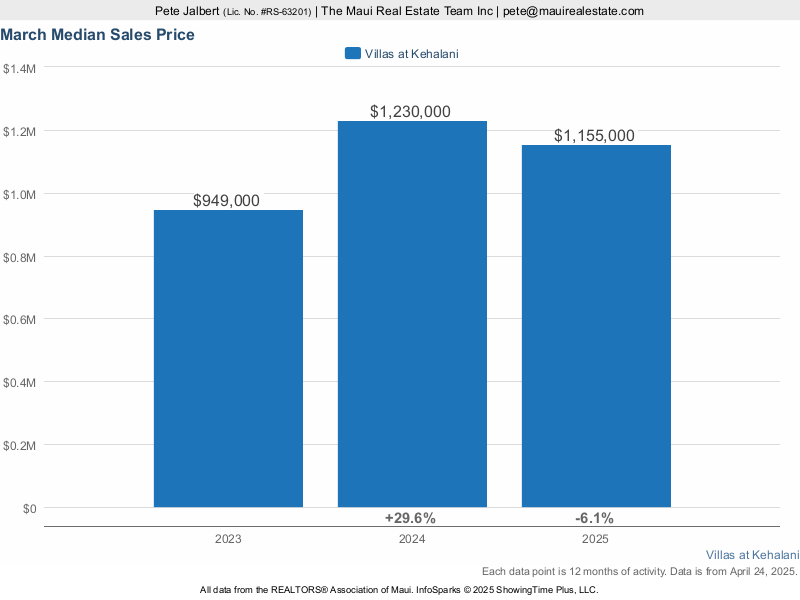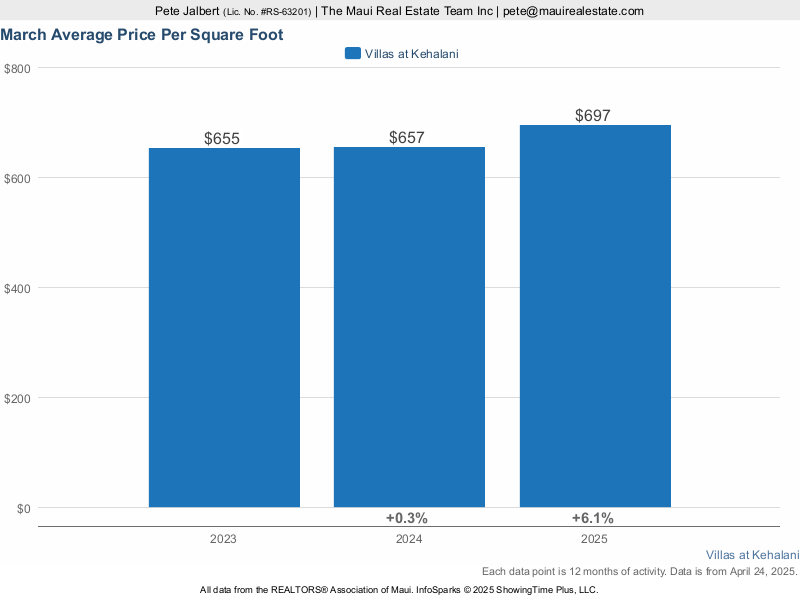 Real Estate Statistics don't always provide a clear indication of changes in value. This is especially true when you look at small sample sizes. For example, looking at the chart above you can see a dip in median prices while the average cost per square foot rises steadily. Some of that has to due to with the composition of sales at the Villas at Kehalani. More two bedroom units selling in a year may cause the median sales price to drop. Contact The Maui Real Estate Team to talk to an agent for a more nuanced discussion of recent market trends.