Wailea Golf Estates is a subdivision located on the Wailea Blue Golf Course. With a location in the heart of the resort and good ocean views, Wailea Golf Estates Homes for Sale tend to fetch premium prices.
Wailea Golf Estates Overview
The subdivision consists of 61 home sites on 30 acres.
The development abuts the 17th, 11th, 12th and 10th fairways of the Wailea Blue Course.
Lots in the development range in size between 12,000 and 20,000 square feet.
Zoning and association rules prohibit vacation rentals.
Sales over the last few years ranged from $1,795,000 for a bank owned home up to $5,450,000 for a stunning home with over 5,000 square feet of interior living space.
Wailea Golf Estates II
A few years back, a developer brought a second phase of Wailea Golf Estates to the market. The 16 lot subdivision did not receive great market feedback. The developer pulled the lots from the market and the development was subsequently sold. We are now starting to see some spec homes in the neighborhood come to market.
Scroll down to see the current inventory of Wailea Golf Estates Homes for Sale.
Check out the recent statistics for Wailea Golf Estates.
If you have questions or wish to discuss a listing in Wailea Golf Estates, please call the Maui Real Estate Team at (800) 579-1525 or send us a message. We'll be happy to help.
Recent Sales Statistics for Wailea Golf Estates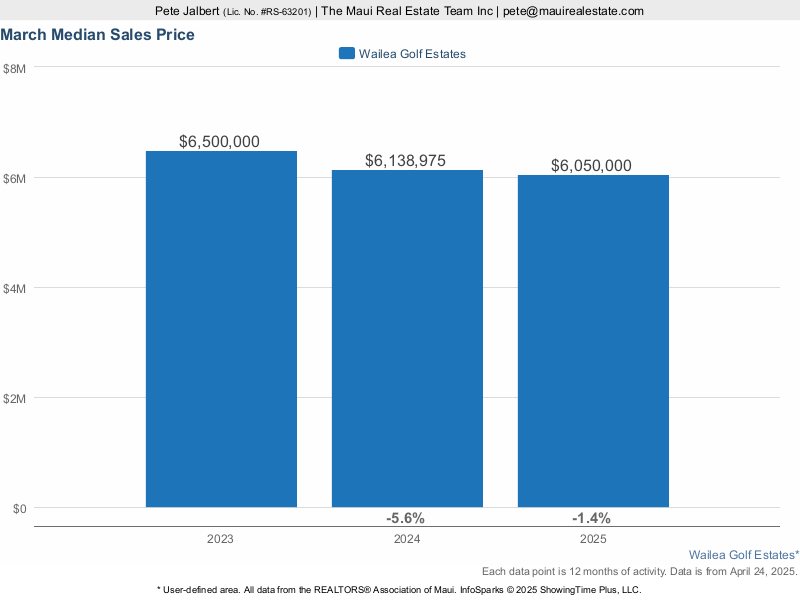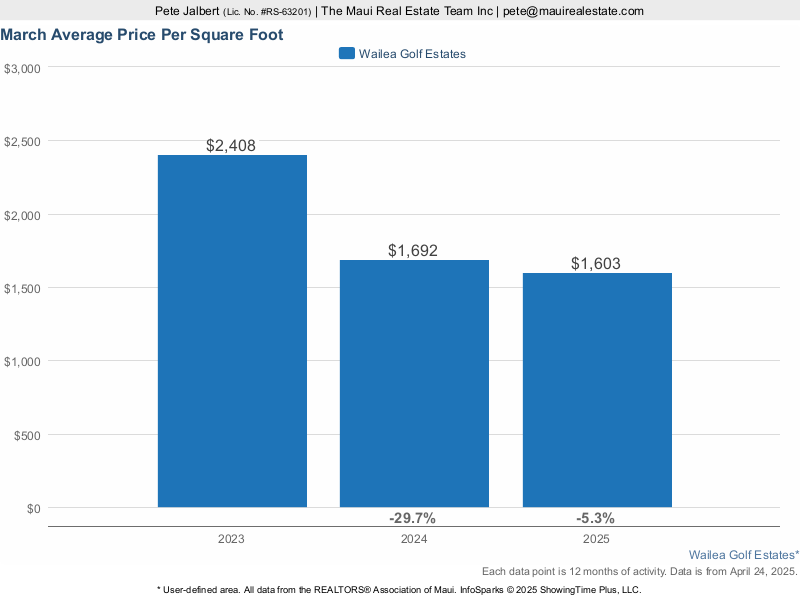 It is worth noting that the sales volumes for a subdivision like Wailea Golf Vistas tends to be pretty low. There is also some variability in the quality, size and finishing of homes. The result is that changes in median price or average sales price don't always reflect market values. Contact The Maui Real Estate Team for a more nuanced discussion of market conditions in Wailea Golf Estates.