Today's blog looks towards leeward Haleakala and the beautiful beaches, stunning views, and high end amenities of the Wailea Resort. We wanted to take a look at how the Wailea market fared through the year to date. This post includes information on Wailea Home and Condo sales as of September 22, 2021. It is also worth noting that this looks exclusively at properties in the Wailea Resort itself. Our MLS groups Wailea and Makena together. I plan on doing a separate post on the Makena market some time next week.
Notable Number's From This Year's Wailea Home Sales
As of September 22nd, Maui Realtors reported 41 home sales. That is a 227% increase in activity compared to the 18 that closed during the same period last year.
The median price of the homes sold is $3,000,000. The average price is $3,691,505. That is an increase of 44% and 55% over last year's median and average prices respectively.
It is worth noting that the change in median and average sales price is not an accurate reflection of the year to year change in values. More sales at the highest reaches of the market helped to boost both of those numbers.
The highest priced sale of the year to date in Wailea closed for $10,900,000. This Wailea Highlands property included a 6,042 square foot home on almost an acre of land.
The Wailea Highlands close was one of two sales to close for more than $10,000,000 and one of six home sales to close for more than $5,000,000 in Wailea. There were no sales over $5,000,000 during the same period of 2020.
The lowest priced sale closed for $1,350,000. This Wailea Pualani home offered 1,991 square feet of living space.
Competition for homes increased significantly. Of the 41 sales, 11 sold for over asking price and 5 sold for full price. By comparison, none of the sales over the same period of 2020 sold for above asking price.
More competition occurred at the lower price points of the Wailea home market. Eleven out of nineteen sales under $3,000,000 closed for asking price or above.
Almost 66% percent of the transactions were reported to be cash sales. Cash seemed to be preferred in the more competitive $3,000,000 and under range and with higher priced transactions. A greater number of buyers chose to use conventional financing for the $3,000,000 to $5,000,000 price range.
Wailea Pualani and Wailea Kai saw the most activity of all of the neighborhoods in Wailea. There were 8 closes in each subdivision.
Thoughts on Recent Activity and the Outlook for the Wailea Home Market
Needless to say, the numbers above point to a robust eight plus months of home sales in Wailea. While many second home markets took off in the spring and summer of 2020, Maui's market remained relatively quiet due to quarantine requirements. We started to see an uptick in buyer activity after the governor lifted quarantine restrictions in October. Buyer activity started to increase during those last few months of 2020. It hit a whole other level in 2021. I checked the MLS data going back to 2003. Only January-September of 2005 came within 10% of this year's total.
While this spring marked the peak of the frenzy, buyer demand remains strong. Inventory, on the other hand, is particularly limited. There are only eight active home listings for sale within the Wailea Resort. An additional seven homes are under contract. Barring any significant changes in the global economic picture or an unexpected influx of new listings, Wailea should remain a seller's market through the rest of the year with sales volumes slowing due to the lack of inventory.
Notable Numbers From the 2021 Wailea Condo Market
Maui Realtors reported 232 condos sold in Wailea between January 1, 2021 and September 22nd. That is a 362.5% increase over the 64 sold during the same period of 2020.
The median price of the 232 condos sold is $1,398,000. The average price is $1,910,153. That is 15.3% and 12.2% higher than last year's median and average respectively.
The highest priced condo sale for the year to date closed for $14,000,000. This Wailea Beach Villas condo features 3 bedrooms, 3.5 bathrooms, almost 3,000 square feet of living space and a direct beachfront location.
The lowest priced Wailea condo sale for the year to date closed for $647,000. This is a studio unit at Wailea Ekahi.
I did a double take when looking at the data for the lowest priced condo sales in Wailea. I saw two closes at Wailea Point for $375,000 and $425,000 respectively. That is a shockingly low price for one of the more premium developments in Wailea. Closer examination revealed that the two seemingly low priced condo sales were for boat garages in the development.
According to MLS statistics, Makali'i was the busiest condo for sales thus far this year. It is worth noting that the majority of the 47 closes were new developer sales. These new developer sales were based on pre-construction contracts penned two to three years ago.
While closes at Makali'i juiced this year's total sales volume based on older contracts, it is worth noting that quite a few properties went under contract in 2021 that won't close until at least 2023. La'i Loa at Wailea Hills is the newest condo development in Wailea. Sales began in the spring of 2020. A roll out right at the start of Covid-19 blunted momentum. That said, it picked up steam in the fall of 2020. Strong demand in the first few months of 2021 resulted in the reservation of all 75 units by this spring.
Maui Realtors reported the most resales at Wailea Ekahi and Grand Champions. Both developments stand at 25 sales for the year to date.
Of the 232 sales, MLS records show 129 were cash transactions. That is 55.6% of the total sales. That is up from 47.9% over the same period last year.
Competition also increased significantly in the Wailea condo market. Of all of the closed transactions, 35 closed for over asking price. Over the same period of 2020, not a single transaction closed for over asking price.
Thoughts on and Outlook for the Wailea Condo Market
Like the Wailea home market, the Wailea condo market experienced strong activity through the first nine months of the year. Also like the home market, the trajectory of the market showed a similar pattern over the last 18 months. It was a slower spring and summer of 2020 as the island felt the impacts of Covid-19 and a lack of visitors. A gradual ramping up of activity followed when tourism reopened in October. The start of the new year brought a whole other level of interest in Wailea Condos. We entered the year with a fairly balanced market between supply and demand. That shifted as buyers ravenously chewed through the market inventory. As with the home market, we are seeing all time high levels of sales activity for the year to date.
With high levels of demand and a shrinking supply, we also experienced a lot of upward price pressure in the market. With variability in value between units, it is hard to quantify the exact levels of appreciation. If I were to guess, I would saw 10% or greater appreciation is quite likely with variability between some of the different developments.
As for the outlook for the rest of the year, it really comes down to inventory. Plain and simple, the active condo inventory is shockingly low. At the date of this post, there are 6 active condo listings in all of the Wailea resort. There are active listings at only four of the seventeen condo developments within Wailea. Needless to say, this will constrain sales volume unless we see a considerable uptick in active inventory. It will also lead to some upward pricing pressure.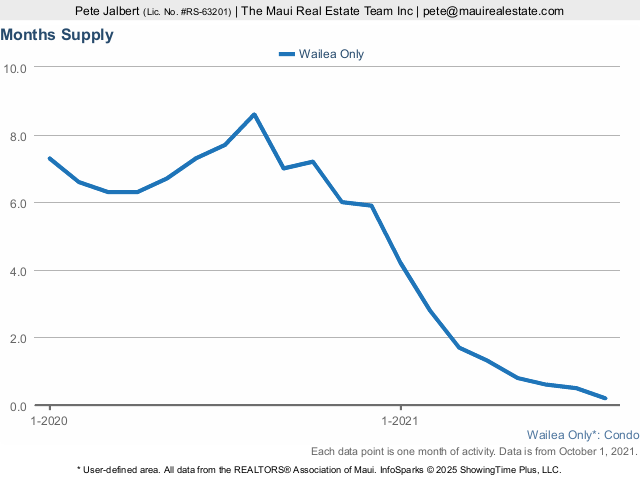 Contact The Maui Real Estate Team
Contact The Maui Real Estate Team if you are interested in buying property in Wailea. We would be happy to keep our eyes and ears open for new inventory or unlisted properties. You can also keep tabs on the current inventory of active Wailea Condo listings and Wailea Homes for Sale on MauiRealEstate.com. I don't think you could find a much better time to go to market if you are a Wailea property owner thinking about selling. Send us a message or give us a call to arrange a free consultation and an estimate of the current market value of your condo.