Since the 1950s, The Wailuku Heights neighborhood has attracted Central Maui home buyers for its combination of scenic views, cooler climate and convenient location.
Wailuku Heights Overview
Wailuku Heights is a good sized neighborhood with over 500 lots.
The northern half of the neighborhood is known as old Wailuku Heights. First developed in the fifties, the average lot size is a little larger in old Wailuku Heights. Most lots range between 10,000 and 20,000 square feet with a handful of even larger lots.
If you are a fan of 1950s Kama'aina style architecture, well preserved homes of this vintage can be found in old Wailuku Heights
The second phase of Wailuku Heights development began in the 1980s.
Lot sizes in the newer part of Wailuku Heights range between 8,000 and 15,000 square feet. All utilities are underground in the second phase of the development.
The bulk of the homes in the second phase of Wailuku Heights date from the 80s. There are also homes built in the 90s, the 2000s and even a handful of homes built in the last ten years. There are still a smattering of vacant lots in the neighborhood.
Views are a big selling point for the neighborhood with coastal views, Haleakala Views and views of the lights of Central Maui at night.
Climate is another draw. The average elevation of about 1,000 feet is cooler than the Central Valley. The West Maui Mountains shield the neighborhood from the heat of the late afternoon sun.
Convenience is another real selling point. County buildings and medical facilities are less than five minutes drive.
Wailuku Heights is also close to more leisurely pursuits. There are three golf courses within ten minutes. Wind and wave sports are fifteen minutes away at Kanaha Beach Park. You are within 30 minutes of even more beaches in South Maui and West Maui.
Check out the recent sales statistics for Wailuku Heights.
Scroll down below for the current inventory of Wailuku Heights Homes for Sale.
If you have questions or wish to discuss a home listed in Wailuku Heights, please call the Maui Real Estate Team at (800) 579-1525 or send us a message.
Recent Sales Statistics for Wailuku Heights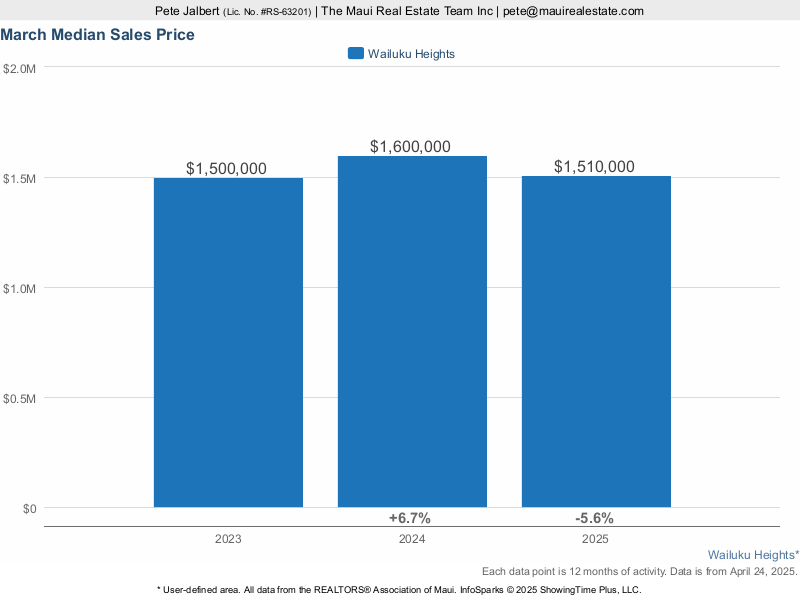 There is a fair amount of heterogeneity among the homes of Wailuku Heights. While some homes boast expansive bicoastal views, the view from other homes is more filtered. While there are new and extensively remodeled homes, others are well maintained but dated. As a result, there is a pretty broad range in values. As a result, median price and average price per square foot can fluctuate due to the composition of homes sold. They don't always track with changes in value. Contact The Maui Real Estate Team to talk to an agent about current market conditions for Wailuku Heights.