Ka'anapali Golf Estates is the original gated residential subdivision within Ka'anapali Resort. With many home sites right next to the golf course, good ocean views and convenient access to other resort amenities, the neighborhood is a draw for discerning Ka'anapali home buyers. 
Ka'anapali Golf Estates consists of 75 homesites.
The neighborhood spreads over 45 acres between the Royal and Kai golf courses. .
Lot sizes range between 10,000-35,000 square feet.
Golf Estates prohibits vacation rentals.
Ka'anapali Beach is just a short golf cart ride from the neighborhood.
There are a number of newer subdivisions within the overall Golf Estates subdivision. They include The Summit, Lanikeha, The Pinnacle and The Vintage.
Scroll down to see the current inventory of Ka'anapali Golf Estates Homes. The listings below represent homes in just the original part of the subdivision. We have separate pages for listings in the Summit, The Pinnacle and Lanikeha respectively.
Interested in recent market trends in KGE? Check out the recent statistics for Ka'anapali Golf Estates.
If you have questions or wish to discuss a listing in Ka'anapali Golf Estates, please call the Maui Real Estate Team at (800) 579-1525 or send us a message. We'll be happy to help.
Recent Ka'anapali Golf Estates Sales Statistics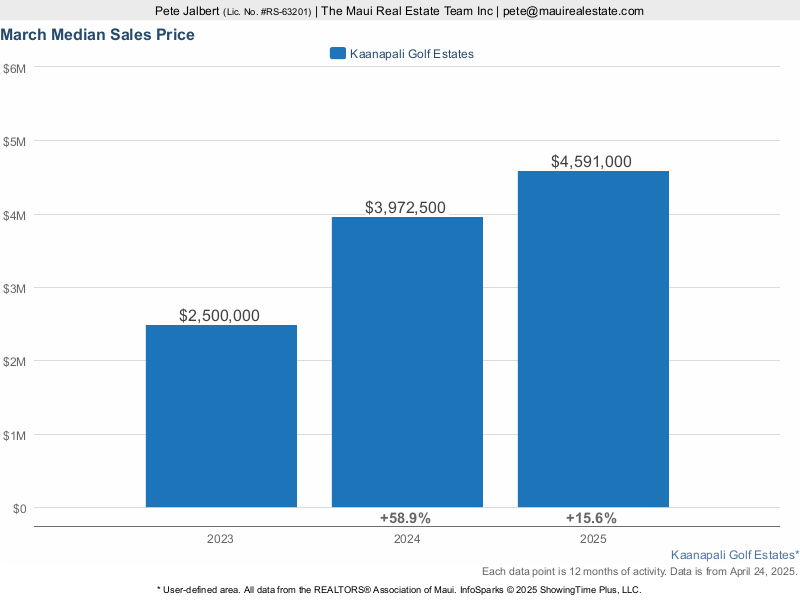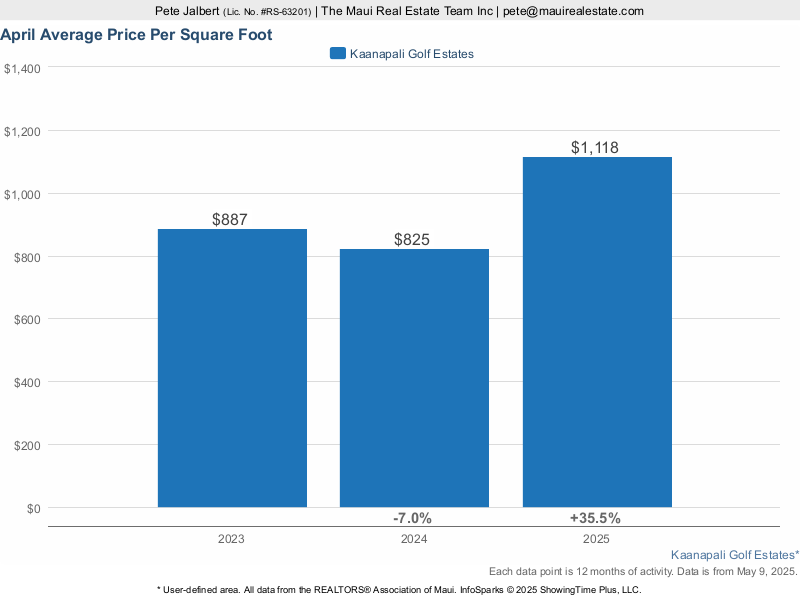 Values in Ka'anapali Golf Estates may vary substantially based on location and view. The highest priced homes tend to be directly on the golf course. With relatively low sales volumes, the location of properties sold can drive shifts in median and average price. Contact the Maui Real Estate Team to talk to an agent about recent market trends in the neighborhood.